In the Beginning, Ford Ranger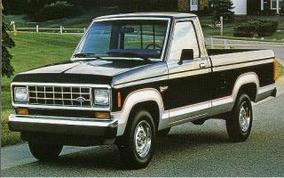 The Ranger name started as a trim package on the full size F-Series trucks. Ford had been importing the Courier since about 1972 as a compact pick up. The Courier was produced by Mazda and at the time Ford owned a 25% stake in Mazda. With the introduction of the Ranger as a compact truck, ' XLS' replaced the Ranger name on the F-Series.




1983 - Replacing the Mazda-built Courier for 1983 was the Ford-built Ranger truck. Introduced early in the 1982 calendar year, the Ranger was nearly the same size as the Courier and also offered 6 and 7 foot beds. Unlike the Courier, however, it was available not only with a regular four-cylinder engine, but also with a V-6 or 4-cylinder diesel engine, and -- later in the model year -- with four-wheel drive. The base Ranger had the 2-liter inline 4-cylinder engine rated at 72 hp. A 4-speed manual transmission was standard. The 2.3-liter diesel 4-cylinder was rated at 59 hp. Five speed manual or 4-speed automatic transmissions were available


1984 - The Ranger styling continued unchanged, but some marketing moves were made to broaden its appeal. In addition to the base truck and the more upscale XLS and XLT models, a Ranger S model was introduced that was a very stripped down version. Added to the option list was a new 2.8-liter V-6 rated at 115 hp. 5-speed manual and 4-speed automatic transmissions were also options.

1985 - Newly standard for the 1985 Ranger was a fuel-injected 2.3-liter four-cylinder engine that was more powerful than the carbureted version it replaced. A carbureted 2.8-liter V-6 remained optional, and newly available was a four-speed automatic transmission. The 5-speed manual transmission became standard, replacing the 4-speed manual. Sales brochures talked about the increased use of aluminum and composite materials in the construction of the pickup bed and other areas as examples of how Ford was fighting corrosion. Ford also continued to stress that the Ranger was truly a small scale version of the F-150, down to the same ladder-type frame construction and twin I-beam front suspension, a Ford trademark for more than 20-years. More than 232,000 Rangers were sold in 1985.

---